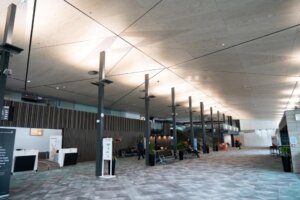 The Waikato-owned Hamilton Airport has a $15 million terminal upgrade which reflects the colours and culture of the region – but the Hamilton name will remain on it.
"It won't change, for many reasons it will stay Hamilton Airport… even though our legal entity is Waikato Regional Airport Limited," Waikato Regional Airport Ltd group chief executive Mark Morgan  told The News this week.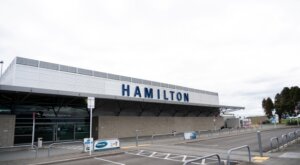 For 15 months, travellers had been occupying the northern end of the airport's terminal while the upgrade progressed. The terminal was unveiled on Sunday.
"I'm very proud of what we have achieved together. The days of arriving at a functional and soul-less Hamilton Airport are gone," said Morgan. "There can be no doubt, upon landing in Hamilton, that you've arrived in a special region, rich in cultural tradition. I think that's brilliant,"
Morgan said the redesign will help futureproof the airport. It included structural strengthening, a newly designed departure area, new furniture, fittings, flooring, and extra dedicated workspaces for travellers.
Design specialists Eugene Kara (Ngāti Koroki, Kahukura) and Norm Te Hira (Ngāti Haua) collaborated with Archimedia Architects, Adrian Morton Landscapes and airport staff to design an environment that draws on Waikato's cultural history.
"Mana whenua have been excellent in terms of their partnership with us on the terminal," Morgan said.
The airport's new tohu (logo/sign) is integrated throughout the redesign. Its two parallel notched rectangles represent a waharoa, or a gateway to a pā, as well as the airport's runway.
The design was inspired by pekapeka, the native long-tailed bat, which is presented as being symbolic of the gateway between worlds in Māoridom, safe travels, and manākitanga (hospitality and kindness).
The terminal's colour scheme, which incorporates earthy greens, browns, and sky blues, aims to reflect the colour pallet of the Waikato. Story boards will explain the culturally relevant aspects of the redesign.
Waikato Regional Airport Limited is owned and controlled by Waipā, Waikato, Ōtorohanga, and Matamata-Piako district councils, as well as Hamilton City Council.
"You'll probably start to see Kirikiriroa maybe used in tandem with the Hamilton Airport name. But Hamilton Airport is important, from an aeronautical perspective it is known as Hamilton Airport, and globally its three-letter code for air services is also linked to its name," Morgan said.
An official opening for the terminal is planned for December 9, when additional cultural artworks, including a pou planned for the centre of the airport terminal, will have been installed.
Read: Ceiling of approval