The New Zealand Sports Hall of Fame is staying in Dunedin another year but is heading north to the Velodrome in Cambridge after that.
In a high-powered presentation to Waipā District Council this week, representatives from the Home of Cycling Trust told the council it had entered phase two of the plan to bring the hall north to Cambridge.
The Hall of Fame has been in the Dunedin Railway Station since 1999 but it is no longer considered a suitable long-term home. Trustees there had originally announced it would close from late next year but have now extended that into 2024.
Trust chair Graeme Maw and trustees, Simon Perry, Miff Macdiarmid and Alan Livingston fronted at the newly elected council's first meeting in Te Awamutu to confirm it was full steam ahead for the move.
The year's extension was convenient for both Dunedin and Cambridge, said Livingston and allowed time for trustees to pursue other opportunities including adding the Māori Sports Hall of Fame to the mix.
Earlier this year the council provided a $750,000 loan guarantee to the trust which then promised to start community consultation and keep councillors informed.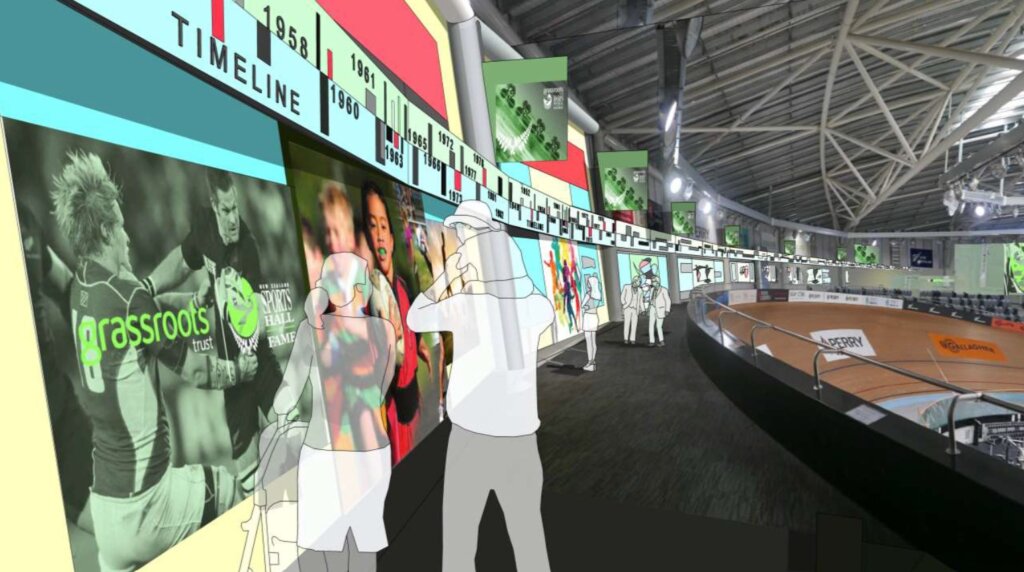 Maw said the cost of the build to add 1800 square metres of floor space to the Velodrome had already gone up from $7 million to $8.2 million with $3 million already raised. Grassroots Trust, principal sponsor behind the Velodrome, has committed $1.1 million plus given $300,000 for operating support. Other funders including Brian Perry Charitable Trust, Trust Waikato and operating support from Sport NZ.
The trust was budgeting on 30,000 visitors a year with an entrance fee of $10 touted as ideal.
The trust behind the Sports Hall of Fame in Dunedin would hold a special general meeting in January where Perry was likely to become chair of an energised trust comprising some of the southern trustees to provide continuity while new trustees would provide local, national and international credibility.
Resource consent had been lodged with the council and commercial tenants were being lined up to ensure long-term financial sustainability, said Maw.
Community consultation was going well with positive vibes from groups the trust had anticipated would oppose the plans.
"Something to look forward to and take friends and visitors – how soon will it be ready?" one group said.
Trustees in Dunedin needed more time to inspect all the artefacts, catalogue them, pack them up into containers and ship to Cambridge.
"The aim would be to stay open in Dunedin until the new venue is ready," said Maw.
Teaser artefacts would be brought north to boost interest.
Tainui leader Rahui Papa has been added to the trust to handle iwi relations and his connection with King Tūheitia's office would be invaluable, said Maw.
Branding for the new facility, which would not just be a static Sports Hall of Fame but more an interactive experience, had begun led by Perry, who chairs the Perry Group.
"Simon has the power of vision. The vision to grab this idea of inspiring champions, not necessarily the ones standing on podiums but in everyday life."
So, the tag Everyday Champions was likely to feature in the final product, said Maw.
Perry said he hoped to broaden the reach of the brand before Christmas.
Councillor Roger Gordon said he had been privy to many details about the Hall of Fame.
"My enthusiasm just builds and builds for this project."
He asked how the trust would accommodate the "horde of people" given the limited parking footprint at the Velodrome.
Maw said consultation was underway with the neighbouring St Peter's School.
"I suspect we will land a partnership plan with St Peter's," he said.
Māori ward councillor Takena Stirling queried the involvement of local mana whenua and was told Ngāti Raukawa and Ngāti Koroki/Kahukura had recommended Rahui's involvement.
Waipā chief executive Garry Dyet added a sombre note to the occasion by telling the trust things were "tight" for the council and providing any other funding would be difficult.
"Will the loan guarantee suffice?"
Maw said the trust would factor that in.
Mayor Susan O'Regan said she expected to hear more from the trust whose members she described as "experienced, skilled and passionate people" during the Annual Plan process.
This forms part of a larger picture to bring more tourism opportunities to Cambridge, she said.