The sudden eviction of staff from Te Awamutu Museum last week underlines the fact Waipā has three town or village centres with significant and costly earthquake proofing to do over the next decade.
The Earthquake Prone Buildings Register, held by the Ministry of Business, Innovation and Employment, lists 42 buildings in Cambridge, 19 in Te Awamutu, three in Ōhaupō and one in Kihikihi.
Six of the most iconic are the Masonic Hotel, Museum and Water Tower in Cambridge, the Regent Theatre and Spindleys Building in Te Awamutu and the Clock Shop in Ōhaupō.
The register provides information about buildings that territorial authorities determined "earthquake prone" and then issued notices which must be displayed in the buildings' windows.
Te Awamutu Museum in Roche Street was not on the register and its fragility was only discovered when the council was looking to replace the roof and windows.
The building is on two sections. The older part has been owned by the council (previously Te Awamutu Borough) since 1925 and the borough council bought the two other buildings, designed in 1968 and 1973, in 1977.
A new report showed the building was at 20 per cent of national building standard which gave it a Grade D rating. In earthquakes these buildings present a risk to occupants between 10-25 times that expected for a new building.
Around 78 staff across the council's service delivery and community services team work in the building, but not all at the same time.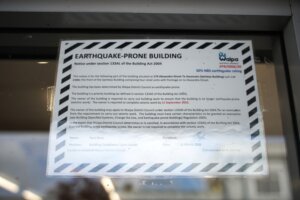 Chief executive Garry Dyet said the council's top priority, having evacuated staff, was to ensure taonga were taken care of.
The council bought the former Bunnings building for $2.05 million last year earmarking it for Te Ara Wai, a museum to showcase Waipā and New Zealand history with a focus on the New Zealand Land Wars. Its $21 million development relies on philanthropic and council funding.
Roche Street is one of five council-owned buildings or structures which it has till 2032 to complete seismic work.
The others are:
Cambridge Museum – Funding has already been approved for a seismic upgrade and reroofing. Work, which will begin early next year, includes bracing the parapet, strengthening the chimney and structure upgrades to the roof structure.
Ōhaupō Memorial Hall – Analysed in three sections, with the back portion of the building (where it is double storey), the only portion below the 34 per cent new building standard. It has been boarded up with the front portion of the building still in use.
Cambridge Water Tower – It has temporary fencing around the base and the first phase of the upgrade is currently being prepared for a resource consent application.
90 Mahoe Street, Te Awamutu – It was assessed eight years ago and will be repaired by 2032.
Other buildings around the district affected are:
Alexandra Street, Te Awamutu – numbers 2, 30, 45 (rear), 46, 54, 97, 159, 174, 235, 246, 279, 324, 452, 1498. This includes the Fonterra Butter and Cream Products facility, Commercial Hotel, Hutsons Building, Old Bakehouse and Regent Theatre.
Alpha Street, Cambridge – 71 and 72 – St Peter's Catholic School Block A and the old Power Board building.
21 Anzac Street, Cambridge, St Peter's Catholic Church.
52 Arawata Street, Te Awamutu, Newton King.
261 Bank Street, Te Awamutu, Methodist Church.
29 Bryce Street, Cambridge Alpha Lodge Masonic Hall.
Duke Street, Cambridge – numbers 35, 37, 44, 54, 55, 57, 59, 60, 63, 68. This includes Masonic Hotel, Legal Chambers and CF Ruge Building.
Empire Street, Cambridge – 3, 23, 31 – includes Central Court and rear part of Geo Calvert & Co.
Great South Road, Ōhaupō – 96, 98, 158 – includes Clock Shop, Christ Church and Memorial Hall.
3 Hallys Lane, Cambridge.
16 Lake Street, Cambridge.
54 Lyon Street, Kihikihi.
90 Mahoe Street, Te Awamutu.
34 Market Street, Te Awamutu.
54 Sloane Street, Te Awamutu.
Victoria Street, Cambridge – 24, 32, 34, 38, 44, 48, 50, 52, 54, 56, 62, 64A, 65, 66, 67, 70, 70A, 72, 73, 74, 76, 91 – includes Calvert Chambers, Wallace and Boyce buildings, Geo Calvert & Co, Cambridge Fine Arts, Cambridge Museum.